Bozen Card Plus - MuseumMobil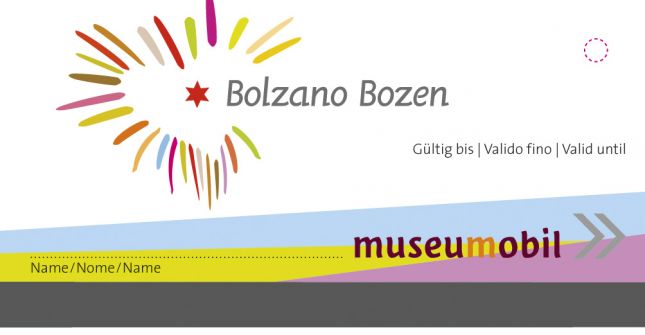 Free but precious​:
Exploring South Tyrol in an easy and economical way is possible with the Bolzano Bozen Card Plus, your personal entrance to many tourism attractions.
This card gives you a great number of advantages as you discover Laives/Leifers, Bolzano/Bozen, San Genesio/Jenesien, Sarentino/Sarntal Valley and the surrounding areas. Your personal admission to a world full of attractions and bonus.
Detailed informations
Overview of advantages
Mobility & Museums
Mobility: Free use of all public transport services belonging to the South Tyrolean Transportation Network: regional trains from Brennero to Trento and from Malles to San Candido, regional and municipal busses, the cableway to Renon/Ritten, San Genesio/Jenesien, Colle/Kohlern, Maranza/Meransen, Meltina/Mölten and Vöran/Verano, the railway at Renon and the Mendola/Mendel funicular, as well as the Tschögglberg bus and a roundtrip ride with the Swiss postal car between Mals and Müstair.
Museums: One free admission to more than 90 museums and collections in South Tyrol includind the following museums in Bolzano as well the Rohrer House in Sarentino: South Tyrol Museum of Archaeology, South Tyrolean Nature Museum, the Museion - Museum for Modern and Contemporary Art, the Municipal Museum, the Mercantile Museum, the Nativity Museum, the Cathedral Treasure Chamber, Runkelstein Castle, and the MMM Messner Mountain Museum Firmian.
Laives/Leifers
Overview of advantages
Guided visit of apple plantations (Easter-october): Every Tuesday at 3:30 pm (German) and 5:00 pm (Italian). Bookable by 12:00 am, T +39 0471 950420
Everything about wild herbs (Easter-october): Every Wednesday from 2:30 pm to 4:30 pm (German and Italian). Bookable by 11:00 am, T +39 0471 950420
Guided bike excursion (Easter-october): Every Thursday from Laives to Merano from 9.30 am to 5 pm (German and Italian). Bookable by 12:00 am of the day before, T +39 0471 950420
Guided mtb excursion (Easter-october): Every Friday from Laives to the lakes Laghi di Monticolo from 9.30 am to 1 pm (English, German and Italian). Bookable by 4 pm of the day before, T +39 0471 950420
Guided tour of Laives (Easter-october): Every Friday from 10 am to 12 am (German and Italian). Bookable by 5 pm of the day before, T +39 0471 950420)
Free entry to the public swimming pool of Laives: one free entry weekly from monday to friday during summer
Free entry to the ice skating place of Laives: one free entry weekly to the public iceskating or ICE-DISCO in the sports area Vallarsa
Environments
Overview of advantages
Bolzano/Bozen
Guided tour of Bolzano: Participation in a guided city tour from the weekly program of the Tourism Board Bolzano/Bozen (visits in English on Saturday from April to October)
Alto Adige Balance (in German and Italian): Participation to one of the Balance experieces proposed by the Tourism Board of Bolzano in springtime. More info: Tourism Board Bolzano, Tel. +39 0471 307000
Val Sarentino/Sarntal Valley
Cableway in San Martino/Reinswald: 1 trip to the summit and 1 trip back to the valley per day on 7 consecutive days in the summer and 1 trip to the summit and 1 trip back to the valley per week in the winter
Val Sarentino/Sarntal Valley hiking bus: 1 two-way trip on seven consecutive days
Guided legend hike: Every Wednesday with registration by Tuesday at the Tourism Board Sarentino, Tel. +39 0471 623091)
Guided hiking tour in the Sarentino Alps: Every Tuesday and Thursday with registration each day before at the Toursm Board, Tel. +39 0471 623091
Swimming pool: Free admission to the Sarentino swimming pool (daily from early-June till early-September)
Mikes Bike Park: Free admission for 1 day (from April till October)
Guided snowshoe hike: Every Tuesday and Thursday with registration each day before at the Tourism Board Sarentino, Tel. +39 0471 623091
Cross country skiing: 1-week-ticket for the Val di Pennes/Pens Valley cross-country course (from mid-December till mid-March, available at the Tourism Board Sarentino)
Ice Skating: Admission to the Sportzone Labnes iceskating rink (daily from early-December till mid-February)
Reinswald toboggan rental: 1 day loan of toboggan in Reinswald, Tel. +39 0471 625330
Snowshoe rental: 2 days loan of snowshoes at the Sarentino Valley Tourism Board Sarentino, Tel. +39 0471 623091
Climbing: 2 free admissions per week tot he new climbing hall and boulder room in Sarentino village (starting from autumn 2017)
San Genesio/Jenesien
Swimming pool: Free admission tot he San Genesio swimming pool from June till late-August